Talisan Vizslas

Dunwoody Ga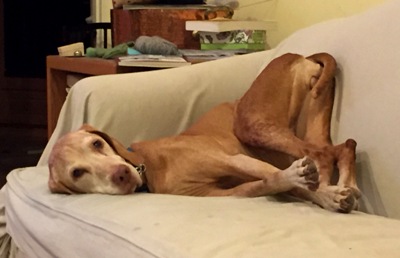 Our youngest female is "Joni" who is a granddaughter of Caneel.  Joni loves everything and everyone.  She too, is a Champion and is working on her Grand Championship title.  She is an amazing athlete, enjoying agility training and long runs and hikes.  She excels at cuddling and we know she will be a great mom.

Joni has been bred to Grand Champion "Rockas" from Baroque Vizslas of Tennessee.  The puppies are expected on April 4 and will be ready to go to their new homes around June 1.

We are now accepting deposits on the puppies.  Priority will be given to people wanting show puppies and those wishing for a pet will choose in order of deposits.

This page was last updated: March 14, 2019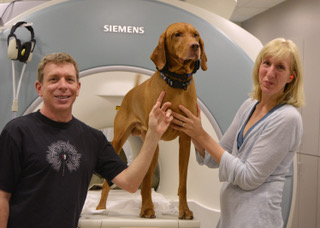 We kept Velcro from her first litter, falling madly in love with his handsome good looks and gentle nature.  Velcro did not enjoy the show ring and we tried him in the field.  He enjoyed that more, but decided he was better suited to be a therapy dog.  He accompanies me to work everyday, greeting clients and comforting them when they are distressed.   He is a Canine Good Citizen and was recruited to be a part of "The Dog Project" which is a canine cognition research project at Emory University, directed by Dr. Greg Berns.  Velcro has been trained to lie quietly in an MRI machine while performing various experiments.  He has completed eight different experiments and truly enjoys his time there, receiving lots of attention from the graduate students and assistants.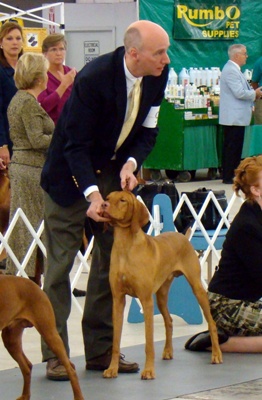 My husband Andrew and I have been devoted to the Vizsla breed since acquiring our first wonderful male "Jerry" in 1995.  Our entry into the world of dog shows began with our foundation bitch, "Caneel" in 2005.   Her breeder, Nancy Edmunds, is well known in the Vizsla community and helped us learn the ropes.  Despite Caneel's inexperienced owner/handler at the time, Caneel quickly achieved her Championship including two Best of Breeds and multiple Best of Opposite Sex awards.